Professional Classes on Your Schedule
Whether you've never swung a hammer before or you are a pro looking to sharpen your skills, we are happy to offer classes here at StormCloak Forge, LLC.
All classes are 1-on-1 or 2 if you would like to bring someone you know. This ensures you get the best experience possible.
Tools, fuel, material, and all safety equipment are provided for you.
You're welcome to bring any blacksmithing equipment you have, including hammers, tongs, an apron, or safety glasses.
Classes can be scheduled any Saturday between 10am and 6pm.
Class hours can be broken up any way you would like into one or multiple sessions.
All classes include a syllabus and handouts to take home along with the item you make in class!
Gift certificates are available.
All classes are $75 per hour for 1 person or $100 per hour for 2. Bring a friend and save!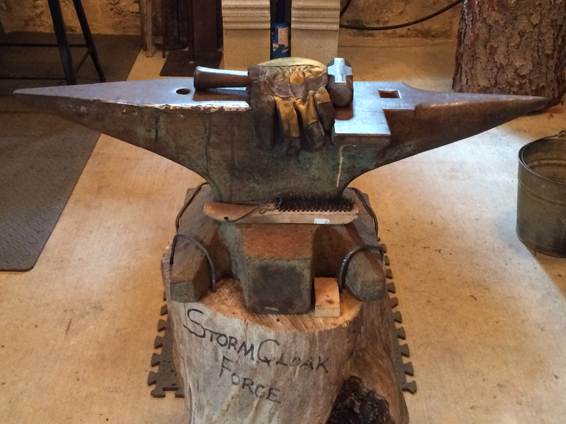 Introduction to Blacksmithing
Experience blacksmithing firsthand!
Heat steel in a coal forge and learn to shape it with some of the tools of the trade.
Make an S-hook to take home.
What you'll learn:
How to shape hot steel
Blacksmithing fundamentals
How to make an S-hook
Pricing:
$75/hour for 1 person.
$100/hour for 2 people.
Book a Time
Basics of Blacksmithing
Learn everything you need to know to get started blacksmithing on your own in this 2-part basics class.
Make sure you schedule part 2 on a different day. We'll cover a lot of material and do a lot of hammer striking.
What you'll learn:
Types of forges and fuels
How to light a coal forge and maintain the fire
Types of tools, their uses, how to set up the smithy, and ergonomics
How to improve basic blacksmithing techniques
How to make a bottle opener or fire poker
Types of steel finishes and how to apply one to your piece
Class length:
Part 1: 4 hours
Part 2: 4 hours
Schedule part 1 & part 2 on different days.
Pricing:
$75/hour for 1 person.
$100/hour for 2 people.
Intermediate Blacksmithing
Continue building on your basic blacksmithing techniques. Make a pair of tongs to take home.
We'll start by assessing what you know so far and help you polish any basic skills you'd like to practice.
Learn intermediate blacksmithing techniques, such as hot punching, drifting, and riveting.
What you'll learn:
How to improve techniques you already know
Punching, drifting, and riveting
How to make a pair of tongs
Pricing:
$75/hour for 1 person.
$100/hour for 2 people.
Book a Time
Rent the Studio
Are you a blacksmith but don't have a smithy to work in?
Do you need help with a project?
Rent our studio and get to work!
What you'll get:
Time to work on your project
Access to the StormCloak Forge, LLC smithy and tools
Our knowledge and help
Book a Time